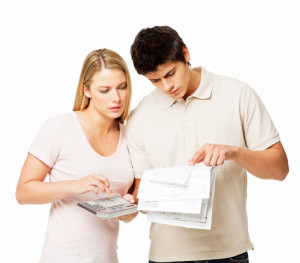 When it comes to paying for divorce, some spouses do not have the means. As a general rule, nobody can be forced to pay for divorce. If somebody does not willingly support you during a time of divorce, you could speak with a judge about issuing an order so that you can have assistance during this difficult time. Usually, judges will only issue this in extremely difficult circumstances, such as when things are very one-sided. An example of this is when a wife stays at home with the children and does not bring in income of her own.
The Truth About Paying for Divorce
Many people will find that it is difficult to pay for divorce, especially when one spouse has stayed home for quite some time. In some cases, one spouse might intentionally make things unfair by removing a spouse's name from all accounts or switching paychecks into a separate account. In situations like this, a wife or husband might be able to ask the courts for assistance coming up with money for a divorce attorney.
However, if a judge knows that there is some way that the other spouse can pay for their own legal fees, then that spouse might not be granted anything. It is never based on gender. If a woman is able to pay for her own divorce or a man is able to pay for his own divorce, they are expected to do so. In the end, a variety of debts are divided. This means that anything in bank accounts, savings accounts, and more could be subject to division – which will help a spouse in their time of need through an 'advance.'
Spouses need to be forthcoming about how much money they make and how much help they will need through this difficult time. We want to help in your time of need if you are going through the divorce process and you need help on a financial level. Let us offer a helping hand as you work through these difficult matters.