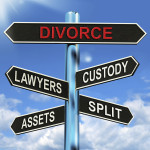 When you and your spouse receive a divorce, you may see it as a time to start fresh – and it is! However, there are also some challenges you may face that you would have never expected. You and your spouse may have sat down and come up with what you see as a "perfect arrangement" for your child, your life, and so much more – however, when the divorce is complete and months or years have passed, everything might change. You must be prepared for these changes in various areas.
Changes After Divorce 
Remarriage: New marriages, of course, lead to new changes you may have never anticipated. Unfortunately, this is one of those parts of divorce that you have to come to expect. A new marriage can raise questions, such as one couple relocating and introducing new children into a familial relationship. Making the transition easiest on your children is the best thing you and your spouse can do for them, including accepting a blended family in the mix.
Challenges in Finances: Some parents understand that divorce will now lead to economic challenges as two incomes can lead to one. It could also lead to child support situations for both parents, or an increase in spousal support. Taking a look at your divorce decree can help you move forward and help you get back on your feet. 
Relocation: If you are moving, you need to notify the court on these matters. It may seem like a minor move but not be so, as the distance could certainly have an impact on your child and their relationships with others. 
Thinking Ahead: If there are changes from week to week that affect a parent's time to see their children, you should always notify the parent in advance time. You should always leave a certain amount of time when there are issues that need to be brought to the courts. For instance, if you want to relocate, wait until the child's school year ends to ensure that they can complete school before drastic changes in their life. These are ways you must always keep your children in mind.
With divorce comes big changes. Because of this, we want to speak to you if you have questions concerning life after divorce and how we can help. Call us today so we can answer all of your divorce questions and help you in the midst of your case.