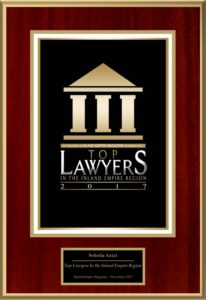 Soheila Azizi has dedicated her time and passions to California communities for over two decades, bringing her experience to help her clients in a variety of ways as a family law attorney and mediator. We are excited to announce that Azizi was featured as a Top Lawyer in the Inland Empire Region and was featured in the latest issue of the Inland Empire magazine.
Soheila Azizi: A Top Lawyer 
Soheila Azizi was listed as a Top Lawyer in a special section of Inland Empire. Her feature stated on her behalf, "Soheila Azizi's professional and personal aspirations in the past 30 years have revolved around trust, justice, and human rights. Described as dignified and highly professional, she is known for passionately advocating on behalf of her clients with a sense of ethics and integrity, which has gained her the respect, acknowledgement and recognition as one of the finest and best attorneys in the Inland Empire and Los Angeles areas by her clients and peers."
Soheila Azizi has focused on a variety of cases that earned her the reputation she holds highly today, from professional negligence, to serious injuries, to family law issues like custody and child support. This recognition brilliantly describes Soheila Azizi for the work she has done for clients in her community as a Top Lawyer, where she has gained respect. We are excited and honored by this 2017 announcement and will continue to serve clients passionately.
Soheila Azizi's Inland Empire Magazine Closeup