When your ex-spouse doesn't want to pay their child support payments, this doesn't mean that you won't see a cent now until the end of time – the law makes it very difficult to skip out on child support payments nowadays. In fact, over the years, strict laws have been enacted to establish and enforce child support orders after their creation. In all 50 states, parents who are divorced still have a legal obligation to support their children no matter what. Today we will discuss how child support can be enacted and how the state can force a parent to keep up with payments.
From the Very Beginning: Establishing Support 
To establish an order, you and the other parent will agree on an amount that works best for you and your children. A judge will approve this agreement. And, if you can't agree, the judge or a local agency will set the amount themselves based on a formula or an amount that they believe is appropriate.
Enforcing a Support Order 
Enforcing a support order is another thing. Sure, a set amount may be put in place, but it's up to the parent to abide by that order. When a parent has not been keeping up with payments, penalties could be put in place. Here are some of the common enforcement tools used every year:
Wage deductions so that child support is taken out of the paying spouse's wages
Federal income tax refund interception
A delinquent parent's license suspension or revocation
Passport restrictions, which means you may not be able to renew
Contempt of court, which could lead to jail time or fines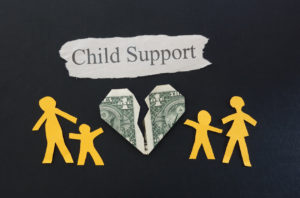 Federal prosecution can take place when a parent has not paid for over a year or owes more than $5,000. The same can occur when a parent takes measures to move to another state in order to escape child support. The parent could be sentenced to 6 months in prison for a first offense, or 2 years in prison when a parent owes over $10,000. As you can see, there are a lot of penalties that tend to deter a parent from avoiding child support payments.
If a parent in your child's life has been avoiding child support payments, you may be able to take action. Call us to get started on your case so we can help you every step of the way.