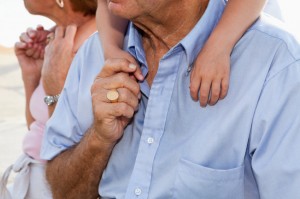 As a grandparent, losing contact with grandchildren can be a devastating by-product of divorce. If the parents of your grandchild have a difficult relationship or living situation, it can be torturous to watch your grandchild's well-being suffer.
Luckily, California law is rather permissive when it comes to grandparent's right to visitation or guardianship. You are allowed to petition the court for visitation rights after a divorce (as long as you can prove you had a meaningful and positive relationship with your grandchild), and you can pursue legal guardianship when the parents are unable to care for the child.
Divorce litigation, custody arrangements, and visitation schedules can be emotionally charged subjects, especially if family members do not agree on the best course of action. Sometimes mediation is a viable alternative to traditional litigation, as it allows family members to resolve disputes in a less formal, less expensive, and less stressful environment than a courtroom.
The advice of an experienced family law attorney is invaluable when it comes to visitation and guardianship issues. If you are seeking visitation rights or custody of your grandchildren, contact the Law Offices of Soheila Azizi and Associates, P.C. today. We are dedicated to protecting the best interests of your grandchildren, and we are committed to finding a solution that works for your unique family situation. Call (909) 484-9992 or contact us online to schedule a consultation today.
Visitation Rights
The California Family Code establishes that grandparents have certain rights to visitation. A grandparent can petition the court for visitation rights under an existing divorce, parentage, or child support case. (If there are no open family law cases filed between the child's parents, the petition can be filed in court starting from scratch.)
In order to grant visitation rights, the court must determine that there was a pre-existing relationship between the grandparent and grandchild and that the relationship would be beneficial for the child. In making its decision, the court will balance the interests of the child (in terms of visitation with a grandparent) with the rights of the parents to make decisions regarding the child's life.
Grandparents are typically not allowed to file for visitation rights when the grandchild's parents are still married, unless one of the following conditions is true:
The parents are living separately
A parent's whereabouts are unknown (and have been unknown for at least a month)
The child does not live with either of his or her parents
The grandchild has been adopted by a stepparent
One of the parents joins the grandparent's petition for visitation
Major changes in the life of the child or the parents can cause visitation agreements to change or end. An experienced family law attorney can help you navigate these changes and fight for the best interests of your grandchildren.
Guardianship
The court can appoint "probate guardianship" of a minor to his or her grandparents in certain cases. Probate guardianship comes in two distinct forms: guardianship of the estate and guardianship of the person.
Guardianship of the estate allows a legal guardian to manage a child's money, property, or income until he or she turns 18. Guardianship of the estate is most applicable when the child owns or receives valuable property, such as inheritance of a house or large sum of money.
Guardianship of the person allows the grandparent(s) to have legal custody of the grandchild and make decisions on his or her behalf. Guardianship is often appropriate when one or both parents:
Are deceased
Are incarcerated (or will soon be incarcerated)
Are in a rehabilitation program (or will soon enter a rehab program)
Have a problem with drug or alcohol abuse
Have a history of being abusive
Are in the military and are deployed overseas
Have a serious physical or mental illness
Are unable to take care of their child for another reason
Legal guardians have the same responsibilities to care for the child as the parent would, including providing food, clothing, and shelter; providing safety and protection; stimulating physical and emotional growth; providing medical and dental care; ensuring proper education; and accommodating special needs.
Guardianship is different from adoption in several key ways. In a guardianship, the parents still have parental rights and can ask for reasonable contact with the child, and the court can end the guardianship if one or both parents becomes able to care for the child.
Guardianship automatically ends when the child turns 18, marries, is adopted, is emancipated by the court, or enters active military duty. Outside of these events, guardianship is only ended if the child, parent, or guardian petitions for termination of guardianship, which requires proof that the guardianship is no longer necessary or that termination of the guardianship is in the best interest of the child.
Obtaining legal guardianship can be a complex and frustrating ordeal, especially if family members disagree on the proposed legal guardian. We encourage you to consult an experienced family law attorney to learn more about the process and hearings involved. Soheila Azizi and Associates, P.C. is committed to making the process as painless as possible for you and your grandchildren. From obtaining initial records and evidence to representing you at the final hearing, our attorneys will be there every step of the way.
Contact Soheila Azizi and Associates, P.C.
Soheila Azizi and Associates, P.C. is proud to be your law firm for life. Our experienced family law attorneys are prepared to handle your case with dedication, compassion, and respect. We have extensive experience in trial litigation, mediation, and arbitration, and we can work with you to determine the best approach for your unique case.
If you are dealing with custody and visitation agreements for grandchildren, contact the Law Offices of Soheila Azizi and Associates, P.C. Our skilled attorneys specialize in coming up with creative solutions for different family situations, allowing you to put your grandchildren's interests first. Call (909) 484-9992 or contact us online to schedule your initial consultation today.
When you want sound, authoritative legal advice and effective and zealous representation to help protect your interests, the Law Office of Soheila Azizi & Associates, P.C. is ready to help.