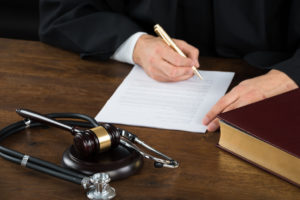 The trial process in medical malpractice cases can sometimes be a complicated thing, adding stress to your already-stressful case. By helping you understand each stage in your medical malpractice lawsuit, you can better prepare for the future and what to expect in your claim. We understand your claim is important to you and we will help you every step of the way.
Preparation for Your Trial 
When trial is set to begin, many things will happen. Both parties will begin speaking to medical witnesses that can be useful for testimony in your case. In many cases involving malpractice, physicians will come to the rescue to speak on your behalf and show how the defendant breached the standard duty of care. Witnesses will be able to show the court how injuries affect your everyday life and how you function ever since your case of malpractice.
The Trial 
The jury will be selected for the case. The defendant will attempt to dissolve your case through their opening statement, but your trial will move forth. Your attorney will represent you in your case by showing what the doctor should have done, show that the doctor breached the duty of care, and that you suffered damages as a result. It could take anywhere from days to weeks to resolve your case, because witnesses will be called to the stand and cross-examination will occur. After this, the deliberation will occur and the judge will read you the verdict of your case.
Many Cases Ending in Settlement 
Settlement of your medical malpractice claim is something that can happen at anytime throughout the process, even in the midst of trial. The majority of these cases will be resolved before trial even takes place. You may be surprised to find that only 7% of cases will go to trial and receive a verdict in front of a judge. You have the right to appeal your case when the judgment is entered. Speak to us today about your options if you have been injured due to somebody's medical negligence and need our help.