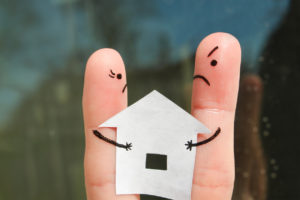 There are many issues in a divorce that can be of major concern and stress in your desperate times. However, you may find one of the most stressful aspects of divorce is the mortgage and who will receive the house, or what will happen to it when all is said and done. You may have questions, which we will help answer today.
Reasons for Keeping the Marital Home
If you're going through a divorce, there may be many good reasons for keeping your marital home. For instance, your children may be sustaining the traumatizing effects of divorce, and you do not want to make it worse on them. You may also have an emotional attachment to keep the family home, which is sometimes very understandable to the courts. You may have put a lot of time into your house and don't want to lose it.
Options You Have 
Both Parties Keep House: After divorce, you may choose to own the house jointly. Maybe you chose to do this because you want to keep life stable for your children or because you love your house and don't want to move, as does the other party. Maybe you don't have the finances to keep the house or you and your ex-spouse are waiting for the housing prices to rise. There are risks to co-ownership, but you can learn about what works for you by speaking to your attorney.
One Party Keeps House: If one spouse chooses to keep the house, they must refinance the home so that the other spouse will not be financially obligated to care for the house any longer. The spouse who receives the home should be able to qualify for a mortgage to refinance the property and many other expenses. 
The House is Sold: Spouses should reach an agreement on who should facilitate the sale of the home, how long they have, and provisions on what will be done if the home is not sold.
After you have taken a thorough look at all of your options, turn to an attorney that you can trust. Call us today for more information on how we can help.