Introducing Law Talk! A new column in 909 Magazine by Soheila Azizi
In an effort to provide its readers with an accessible avenue to general legal information, 909 Magazine has decided to provide a great service by offering you lively legal discussions, views, and information on important legal issues. I am happy and excited that 909 Magazine chose me for this job and I would like to introduce my new legal column, "Law Talk".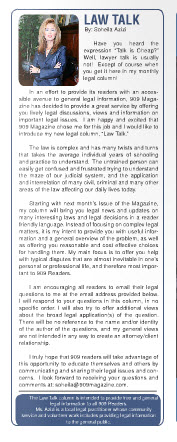 ---
909 Magazine: Law Talk- Nov 2014
Prenuptial/ Postnuptial Agreements: What, Why and When?!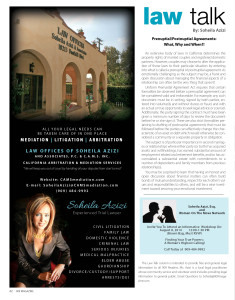 ---
January 2015
Law Talk by Soheila Azizi
At last, a sensible approach to America's broken system of Immigration! 
President Obama's resolve to fix our nation's broken immigration system is music to ears of more than eleven million immigrants who sought refuge in this land in pursuit of their dreams.
The plan is not a blanket amnesty law but as described by the President, a "common sense immigration system that lives up to our heritage as a nation of laws and . . . immigrants."
The plan consists of four components: 1. A dual approach to strengthening border security and necessary technology and infrastructure to remove criminals; 2. Holding employers accountable for hiring undocumented workers while offering a reliable system of verifying their legal status; 3. Providing the undocumented immigrants with a legal way to earn eligibility for citizenship by paying taxes and certain penalties, undergoing background checks and learning English; and 4. Streamlining legal immigration by granting legal status to foreign entrepreneurs and promising foreign graduate students, while improving the timing and manner of immigration of family members of US citizens and legal residents.
California became the tenth U.S. state after Governor Jerry Brown made it possible for many undocumented immigrants without a legal immigration status to obtain a California driver's license. It is anticipated that more than a million applications will be processed by DMV after the first of the year.
At last, earning their rights to legal immigration is becoming more than just a dream for millions of immigrants who live in this country in the shadows and without a legal status.
---
February 2015
Law Talk by Soheila Azizi
Law Talk's premium pick from California's 900 new laws in 2015
Starting on January 1, 2015, undocumented residents (reaching approximately a million and a half over the next few years) can and are expected to apply for their Driver's License; The new age limit for reporting sexual abuse is now 40 as opposed to prior age limit of 28; New laws create harsher punishment for sex acts committed on someone who is passed out from consumption of alcohol or drugs, or is unable to give consent due to disability; Dissemination of private/nude images can now be charged criminally as a misdemeanor, as well as being subject to civil liability; The prior law's loophole allowing circumventing compliance with California Gun safety standards was closed with the passage of AB 1964; Transgender death certificates must now list gender consistent with deceased' selected gender and not dictated by their anatomy; State Family Leave pay now includes parent-in-laws, grandchildren and siblings; Effective July 1, 2015, all businesses must pay for 1 hour of sick leave for every 30 hours worked by their employees.
Law Talk's U.S. Supreme Court watch for 2015:
The lineup of cases before the U.S. Supreme in 2015 has many waiting with anticipation on the direction of the high court's ruling on the following controversial issues: The challenge to President Obama's health care tax subsidy, the limits on freedom of speech in Facebook postings, the religious freedom of a prisoner to grow a beard in violation of prison rules, entitlement of pregnant women to discriminatory treatment in the work place, and perhaps a clarification on the constitutionality of same-sex couples' right to marry.
Law Talk will keep you posted on these and other developments in laws that are most relevant to your lives.