Domestic Partnerships Lawyer in Rancho Cucamonga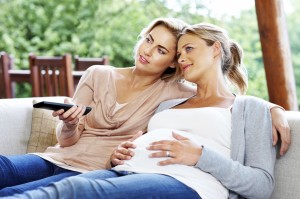 Entering into a domestic partnership is a great way for many loving couples to have a legally recognized relationship that affords them many of the rights married couples have. Domestic partnerships in California are available to same-sex couples are certain opposite-sex couples, and they have expanded in recent years to make domestic partnerships functionally equivalent to civil unions in other states.
Our California family lawyers help same-sex couples interested in domestic partnerships. You are taking a big and exciting step, and you deserve a law firm that will do its best to ensure you create an agreement that lays out your rights and responsibilities as domestic partners.
When you are considering a domestic partnership or are facing domestic partnership issues, the family lawyers at Soheila Azizi & Associates, P.C., can help. We are compassionate family law attorneys who are committed to excellence in all family law issues. At The Law Offices of Soheila Azizi & Associates, we are proud to provide thorough and experienced legal representation that protects your rights as a couple. Contact us today to schedule a consultation for your family law matters.
Qualifying for a Domestic Partnership
In order to obtain a domestic partnership, the two parties must meet certain criteria. Under the California Family Code, potential domestic partners must:
Not be married to someone else or be a member of another domestic partnership that has not been terminated, dissolved, or annulled
Not be related by blood in a way that would prevent them from being married
Be at least 18 years of age (or get a court order and consent from the minor's parent to enter into a domestic partnership)
Be members of the same sex or over 62 years of age
The requirements for domestic partnership eligibility changed substantially on January 1, 2012, thanks to SB 651. Before this bill became law, potential domestic partners were required to live together, opposite-sex couples could obtain domestic partner status without one of them being older than 62, and those under 18 were unable to obtain domestic partnerships.
California domestic partnership laws allow registered couples to have rights similar to civil unions, including:
Ability to adopt your partner's child
Right to visit your loved one in the hospital
Access to your partner's health insurance and state employment and disability benefits
Right to make legal, financial and medical decisions for your partner
Right to sue for wrongful death
Your employer may also recognize your registration as domestic partners and offer greater rights than the state requires.
Obtaining a Domestic Partnership
As long as you qualify for domestic partnership under California law, the process for making the partnership official is actually quite simple:
Fill out your declaration form. You and your potential domestic partner should fill out the Declaration of Domestic Partnership or Confidential Declaration of Domestic Partnership form (both are available on the California Secretary of State's website).
Pay the filing fee. There is a $10 fee for opposite-sex domestic partnerships and a $33 fee for same-sex domestic partnerships. According to the Secretary of State's website, the additional $13 fee for same-sex couples is used to "develop and support a training curriculum specific to lesbian, gay, bisexual, and transgender domestic abuse support service providers who serve that community in regard to domestic violence, and to provide brochures specific to lesbian, gay, bisexual, and transgender domestic abuse."
Mail the forms. Completed domestic partnership forms should be mailed to California Secretary of State, Domestic Partners Registry, P.O. Box 942877, Sacramento, CA 94277–0001. Forms can also be delivered in person to the Sacramento office or the Secretary of State's Los Angeles regional office. (Note: There is an additional $15 fee for processing a document hand-delivered to the Sacramento or Los Angeles offices.)
Dissolving a Domestic Partnership
While dissolution of a same-sex domestic partnership is not technically a divorce, it has the same effect on your legal rights. Your domestic partnership agreement may dictate issues like:
The simplicity of the dissolution process will depend on the circumstances of your domestic partnership. In certain cases, domestic partners will have to initiate a dissolution proceeding in a California Superior Court.
However, you can terminate the partnership by filing a Notice of Termination of Domestic Partnership form if the following conditions apply:
The form is signed by both registered domestic partners
The domestic partners did not have a child together before or after domestic partner registration, did not adopt a child during the course of the domestic partnership, and neither partner is currently pregnant (to her knowledge)
The domestic partnership lasted five years or less
Neither party has a need for a formal division of property (not counting the lease for their joint residence)
You must follow the procedures of the Secretary of State or Superior Court to end a domestic partnership. The Law Offices of Soheila Azizi & Associates, P.C. can ensure that you file the right documents, then help you resolve any dissolution issues as amicably as possible.
Contact the Law Offices of Soheila Azizi & Associates, P.C.
Our family law attorneys are vigorous advocates for our clients' rights. At the Law Offices of Soheila Azizi & Associates, we treat our clients as we would like to be treated: with respect and compassion. When you are ready to form a domestic partnership or are facing the dissolution of your domestic partnership, contact us. We want to be your law firm for life.