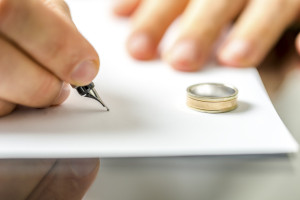 When you are going through a divorce, it can bring out a variety of emotions, some positive and some negative. Sometimes, due to these emotions or the history of your spouse, you may find that it is necessary to receive a temporary restraining order through the divorce process. Today we will look at some of the reasons why a temporary restraining order (TRO) can come into play, even when cases of domestic violence are not present.
What the TRO Does 
Usually, you hear of TROs being used in divorce cases where domestic violence was present, due to the danger concerns and the high emotions that could spiral out of control in one of these situations. But, in general, a TRO is actually just a court order that temporarily stops somebody from taking certain actions such as taking the children and unexpectedly moving out of state, cleaning out bank accounts, canceling insurance policies, taking out a loan and using joint assets as collateral, or removing funds from a retirement account. These are very real scenarios that happen in many divorces, which is why a TRO may be essential.
The reason why it is called a temporary restraining order is because they are typically due to expire as soon as the divorce process is complete. A settlement will be reached, a trial will be issued where the court decides what is best on many matters, and many more issues will come to light. However, yes, TROs can also be used as a way to address domestic violence in your divorce case. The spouse will usually be told to stay away from the other spouse and even the children in cases of extreme violence and they will then take a look at the circumstances and make a judgment. These cases can be extremely emotional and complex.
Is it Impossible to Obtain a Temporary Restraining Order in Divorce? 
No, it is not impossible, and in California it is a process that is actually made quite easy. California utilizes something known as an Automatic Temporary Restraining Order (ATRO) that becomes effective as soon as you file for divorce. This will keep everybody protected until the court has a chance to look over the circumstances of your case and come to a decision that benefits you and your family.
If you have questions about a TRO or ATRO, come to us for your divorce matters. Because we understand these issues are important to you when going through the divorce process, we offer our helping hand. Call us today.