Divorce is a difficult time, and you're never really prepared, are you? No matter what divorce option you and your spouse decide on, you know that there will be new emotional and financial challenges in your life and other hurdles you will have to avoid. There are some steps you should take before you enter into the divorce process, as it will help move things along more easily.
Steps to Take Before Divorce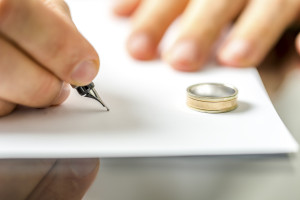 Get Your Finances in Order: You should always keep a good financial record so you know what type of standing your finances are in as you go into the divorce process. This will allow us to sit down with you and make a plan about your finances and what will happen to them while you are going through divorce, and afterwards.
Set Money Aside: You should always have an emergency fund when you are getting started on the divorce process. If you happen to lose a job or have unexpected bills for another reason, you will want to have this money. If your spouse unfairly cuts you off from finances when you file for divorce, you want to be prepared for anything. Keep valuables in a safety deposit box if you believe it will give added protection. 
Consider a Journal: Keeping a journal is one of the best ways to keep track of everything that happens in regards to your children. Perhaps you can use the journal to log emails and text messages that your ex sends to your children, as well as use it as a calendar to keep track of activities they are involved in. If you are looking to make a case and gain more time with your children, this is a great way to show what you do on an everyday basis.
Don't Mix Social Media and Divorce: Social media is one of the worst places to take your divorce. If you share things on a personal level, such as your time spent drinking and partying, it could look bad to the judge in your case. If you talk badly about your spouse online, it could hurt you when trying to obtain custody. These are all important things to remember, because everything can be seen when you make it public.
Consider Therapy: If you are dealing with emotional turmoil due to the divorce, it is time to consider therapy. When you talk with a therapist, this information is kept confidential, so you can share away and feel more confident moving forward.
There are many aspects to consider when you are going through a divorce. We want to help you every step of the way, from the most simple aspects to the most difficult and emotional. Call us for more information on how we can play a role in your divorce, today.