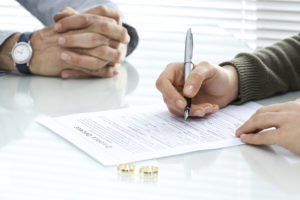 When you are going through divorce, you may be concerned about the impact that it could potentially have on your children. When two divorcing parents are able to co-parent in a respectful manner, it not only relieves stress on the parents, but also brings the best outcome for the children. High conflict divorce can lead to anxiety, stress, and acting-out behaviors in children, which is why so many people choose to go through with collaborative divorce when it is a possible scenario.
Why is Collaborative Divorce Sometimes the Better Option? 
When you litigate your divorce with your spouse, you and your spouse are pitted together as adversaries in the court of law, with everything up in the air. You may have an end goal picked already to co-parent your children and, with an ugly courtroom divorce looming overhead, you may never reach this end goal. If you are just thinking about divorce or you have already begun the process, it is not too late to look at a collaborative divorce option. We have experience in these cases and can help you in your time of need. It can also help you save money, which can be used to pay for matters involving your children, relieving stress along the way!
Keeping Your Children Out of Your Divorce 
Sometimes, it may be difficult to keep yourself from saying certain things, or leaning on your child's shoulder in your time of need, but you need to be strong in the face of divorce to deal with it head-on for your children. Here are some tips for keeping your children out of the middle of your divorce:
Not making negative comments about the other parent
Not confiding in your child when it deals with your divorce
Avoiding using your child as a "middle man" to relay messages
Not seeking information about the other parent from your child
Allowing your child to tell you about their visit with the other parent on their own
As a parent, the well-being of your child is first and foremost to you. You may worry about how they will feel going through the divorce, or what they have shared with you. Now is the time to talk to us to get you the best results in your case. Call us for more information on how we can help.