Attorney Soheila Azizi Devotes Her Life and Career to Service
Volunteer Experience and Community Service
1993 to Present: Board Member of Upland Spiritual Assembly
1995 to Present: Past President & Co-Founder of Upland Interfaith Council
1995 to Present: University of La Verne Mock Trial Competition Judge
2005 to Present: Co-Founder & Board Member of "Women on the Move Network"
2005 to 2012: Board Member of the Community Partnership for Youth Development
2008 to Present: Board Member of Board of Visitors, University of La Verne, College of Law
2000 to Present: Arbitrator for Mandatory Fee Arbitration Program of CA State Bar
1998 to Present: Volunteer Certified Temporary Judge, Settlement Officer, Mediator and Volunteer Certified Temporary Judge, Settlement Officer, Mediation and Arbitration for Riverside and San Bernardino County Small Claims, Superior Court Family Law and Civil Mediation Panels, as well as for local County Bars and ADR panels
Iranian American Women's Association
Recent Community Appearances
Listen to our Eye on the Community segment on KFRG
Community Involvement
Profiled Rancho Cucamonga Divorce Attorney, Soheila Azizi in their February 2012 issue.
Women on the Move Network, Co-Founder & Board Member: 
I am one of the co-founders of the Women on the Move Network who is a non profit organization focusing on bringing about gender equality as an essential component of a peaceful society;  the young girls' mentoring programs empower the girls to develop self confidence, self respect, respect for others, in order to make positive choices and healthy decisions, through mentoring, coaching, recreation and cultural activities.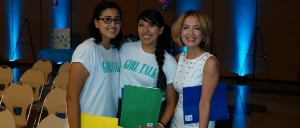 CAMS Mediation:
She is the founder of California Arbitration & Mediation Services (CAMS). In my undying strive for justice for all, I have found unparalleled love and satisfaction in conflict resolution through mediation, arbitration and other out-of-court solutions. through my non-profit conflict resolution services (CAMS), my colleagues and I promote peaceful resolutions and dignified solutions to high conflict situations, as well as providing public with education and affordable means to accessing justice.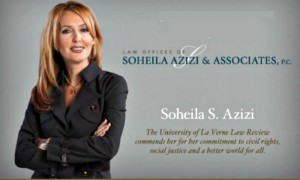 University of La Verne College of Law Alumni:
She was acknowledged for her sponsorship of La Verne Law Review's Civil Rights Section 1983 Symposium. Featured Alumni Spotlight, "Soheila Azizi believes in living a life of good works. Her guiding philosophy is that in this life you get what you give, and when it comes to ethics, there is no dividing line between personal and business" read more…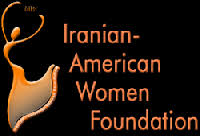 Iranian American Women's Foundation:  
Ms. Azizi's passion and advocacy for justice sparked at a young age when she escaped her birth land in the midst of Iranian Revolution in1979, desperate to change the consequent religious persecutions and gross human right violations committed against her faith community. For the past 30 years, Ms. Azizi has dedicated her professional career and personal life to serving peace, justice and equality in a compassionate and altruistic manner. While her love for law and advocacy for those needing a voice has been the key to her very successful law practice, it is her drive to promote peace, gender and racial equality, which has inspired this litigator to establish and take active role in many public benefit organizations, socio-economic projects, humanitarian movements and peace-making initiatives – Continue reading click here.